Your First Step Toward Peace of Mind
Welcome to Serenity Kitchen & Bath, your first step toward peace of mind.
We offer kitchen and bath remodeling, renovation, and the complete redesign to give you the interiors you deserve. Our team of expert designers and installers take the measurements and listen to everything you want for your home. Initial appointment is free of charge with no commitment.
Lifetime Warranty *
We are so confident in our installations that we provide a lifetime warranty on our tile work and a five-year warranty on the entire project.
*Restrictions apply, must meet eligibility requirements. Ask for complete details.
Remodel vs. Renovate
Many households often mix up the terms "remodeling" and "renovating" when they want to improve the aesthetics of their home. While both achieve good results, the procedures differ.
Remodeling means changing the structure of a room or the entire house to give it a new look. It's possible to remodel even if these are still in good condition. If you're simply tired of the appearance of your home, it's best to go for this option.
Renovating is the process of restoring a room or house. It brings them back into a liveable state and adds some extra features. If your home needs a major makeover, such as flooring and furniture replacement, then this is the better option.
At Serenity Kitchen & Bath, we offer both. Our services focus on bathroom and kitchen remodeling and renovation to help meet and satisfy client expectations.
Why Remodel Your Kitchen and Bath
Improve Function – Kitchen and bath remodeling projects aim to make the room work for you and your family. Our experts are willing to implement specific features, from built-in eating countertops to tub and shower conversions, to complement any kind of lifestyle.
Adds Storage – A well-designed bathroom and kitchen increases storage space, allowing you to organize items better. We offer stock, custom, and semi-custom cabinetry to fit your needs.
Promote Safety – A poor layout can lead to accidents. Our team can help reduce risks by designing an ideal floor plan. We also make sure that the countertops and other fixtures have the right dimensions to prevent straining.
Increase Resale Value – Remodeling the bath and kitchen before putting the house for sale can increase your returns by 80% to 120%. These can also become your major selling point during a resale.
Serenity Kitchen & Bath is one of the leading kitchen and bath remodeling companies in Fort Wayne and Northeast Indiana. For more than 20 years in the industry, our experience can turn your dream interiors into a reality.
Call us today at (260) 749-7028 or send an email to Bathmansteve@serenitykitchenandbath.com for inquiries.
Why Choose Serenity
No-Gimmick Pricing
Don't be fooled by estimates that cut corners or match bids. Our competitive pricing has generous allowances for fixtures and tile, using high-quality products that last a lifetime.
Huge Selection
Why limit yourself? Explore your options! Serenity offers the widest array of cabinetry, countertops, fixtures, lighting, tile and natural stone. Build your dream!
Prompt Service
Schedule your initial consultation in days, not weeks. Our detailed proposals are sent in a timely manner and we're always available for questions when you need us!
Featured Work
Kitchen Upgrade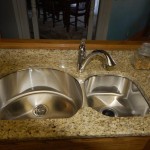 Custom granite countertops & new cabinets made to match the existing
Custom Showers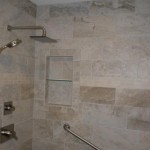 Spacious, luxury tile shower with a custom shampoo niche
Finished basement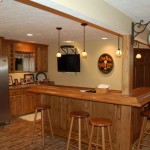 Custom cabinetry adds a relaxing feel to this finished basement